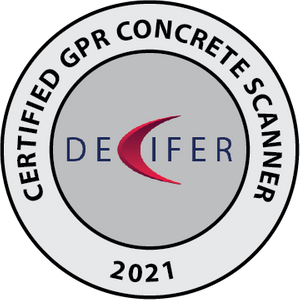 Decifer Certification was created to proved GPR service providers with a way to show their clients that their technicians have sufficient training and experience to be recognized as competent GPR concrete scanners.
Costs and logistical challenges involved with in-person practical and theoretical testing made this type of certification impossible until Decifer was developed.
Decifer Certification tests a technicians theoretical and practical concrete scanning skills and knowledge. Because Decifer is computer based, the certification test is completed at the technicians location and at a time of his/her choosing.
Upon the successful completion of the tests, a certification identification card is sent to the examinee.
The certification Logo is also made available for use on marketing material.
What Decifer Certification Includes
Decifer Certifier - a special version of Decifer which contains the scanning scenarios that are designed to test the technician's capability to perform the techniques required.
Five hour Decifer subscription to allow new users to familiarize themselves with Decifer prior to taking the test.
Written test on theory and concepts related to each skill level.
How Decifer Certification Works
The Written Examination
The written examination is online and consists of 120 questions that should take approximately one hour to complete.
The login credentials to the online examination are provided upon purchase of the certification package.
The Practical Examination
Download and install the Decifer Certifer software.
Login with your Decifer credentials provided after purchasing certification or using your Decifer credentials.
Complete the examination scenarios.
Your certification results will automatically be sent to our examiners for grading.
A certificate and logo for marketing purposes will be sent to you.
You may repeat the examination as many times as you like (new scenarios for each examination) at no additional cost.