The Best GPR Concrete Scanning Training Anywhere!
For companies that need a high quality GPR concrete scanning training program for technicians at all skill levels, the Decifer GPR programs provide the most effective training to use GPR equipment in the industry. Unlike other training courses that rely on classroom teaching or online courses with no practical learning (might as well read a book!), Decifer GPR programs are designed around the Decifer GPR simulation software which allows trainees to learn and practice critical scanning skills online from anywhere.
Decifer Is Changing The Status Quo
Decifer is a full featured training system that delivers an enhanced learning experience by combining high powered simulation software, LIVE Webinar training courses, eLearning modules (Coming Soon), online continued learning and one-on-one online coaching with experienced GPR trainers.
And it can be completed from anywhere.
The result is well-trained certified technicians who are proficient in concrete GPR scanning methodology, who are ready to work in less than one-third of the time it would take using traditional training methods.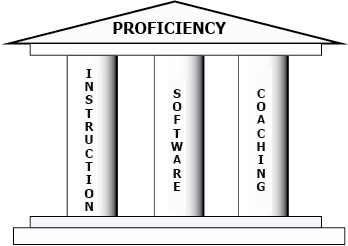 The Three Pillars of the DEcifer Training System
The Decifer System relies on three training pillars to produce proficient GPR technicians
Decifer Software - high powered simulation software which creates simulations based on real world scenarios.
Courses that teach methodologies, best practices and necessary skills.
Remote, online coaching by experienced GPR trainers to address any questions or gaps in understanding after the course.
What our students say about our course
"Being ex aviation and quite familiar with the simulator concept, Decifer was the logical choice along with the webinar series, it provided a realistic platform of scenarios and examples along with access from a remote location (Australia) that I was looking for. This training was a very positive experience, the training method and staff were first class.
I'd confidently recommend the course to others"
Kane H, QLD Australia
GPR CONCRETE SCANNING TRAINING - FEATURING DECIFER
THREE OPTIONS - EACH ONE DESIGNED TO MATCH YOUR SITUATION AND PROVIDE THE BEST POSSIBLE TRAINING OUTCOME
COMING SOON
This is the full GPR Concrete Scanning course that is delivered in our webinar course but is online and self-directed.
Includes: * Level I & II Ongoing Learning Access and * Certification
Live Webinar Based GPR Concrete Scanning Course
12 Hour Live webinar based training course delivered in 4-3 hour sessions. This course includes a 30 hour Decifer subscription for use during and after the course and coaching by the course instructor during the course.
Includes: * Level I & II Ongoing Learning Access and * Certification
GPR Concrete Scanning- Training Camp
The Ultimate GPR Concrete Scanning learning experience. This is a 3 day immersive course:
Includes: * 16 Hours Classroom Instruction utilizing Decifer * Equipment demos * Networking * 2 hours of post course coaching * Level I & II Ongoing Learning Access * Certification
DECIFER SOFTWARE ONLY OPTIONS
Decifer subscriptions are available in hourly blocks
Purchase additional hours to expand your practice time or purchase Decifer only and integrate it into your own training program
10 Hour Subscription
10 hour block of Decifer full version access.
20 Hour Subscription
20 hour block of Decifer full version access.
30 Hour Subscription
30 hour block of Decifer full version access.
Remote online coaching
Online coaching with an Instructor made possible using Decifer.
Coaching
1 hour of live coaching with a senior GPR trainer. This product requires a Decifer Full Version subscription.
Coaching 3 Pack
3 hours of live coaching with a Senior GPR trainer. Save 20% compared to buying individual hours. This product requires a Decifer Full Version subscription.
Technician Certification
Level I and Level II Certification Testing
All Decifer courses come with certification, however you can purchase certification only and have all your GPR technicians become Decifer certified.
Decifer certification consists of a written test and a Decifer based practical examination.
Certification Examination for Level I technicians
Certification Examination for Level I technicans